Thyssenkrupp Stairlifts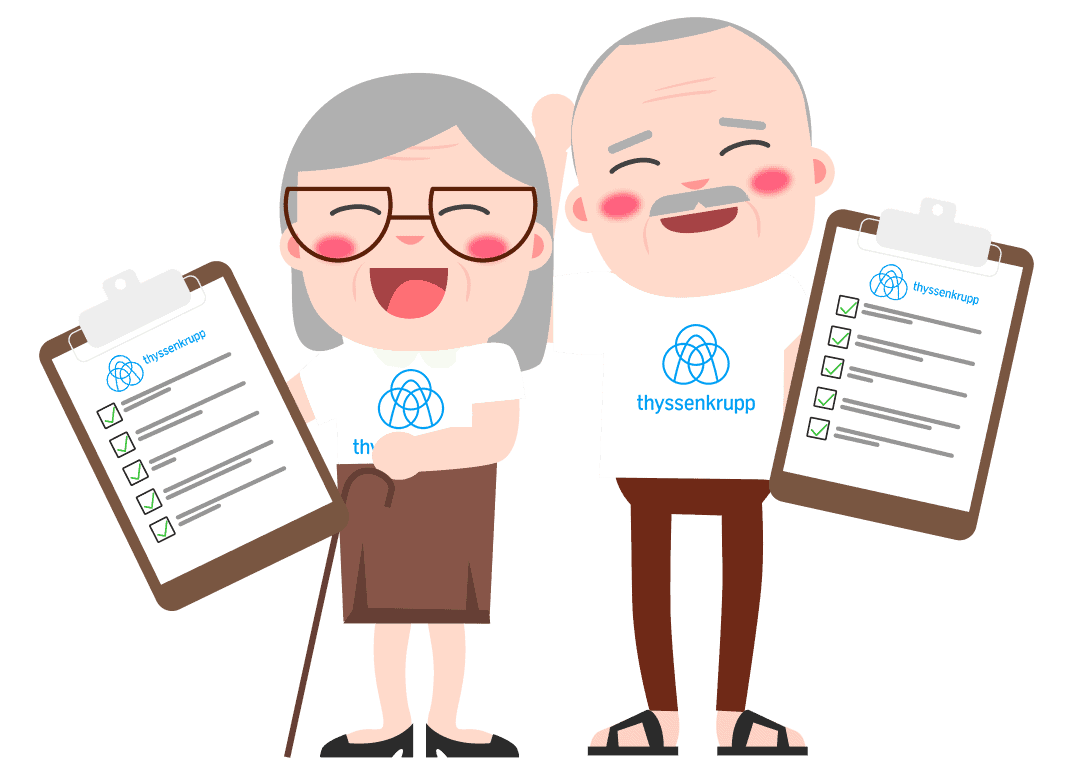 Thyssenkrupp stairlifts are manufactured by Thyssenkrupp Access Solutions, which is part of the German multinational conglomerate Thyssenkrupp AG Group.
In addition to stairlifts for homes, the company offers a range of other mobility products such as home lifts and wheelchair platform lifts.
Thyssenkrupp stairlifts are sold by dealers in the UK and in many other countries around the world.
Thyssenkrupp have been stairlift suppliers for over 20 years in the UK, providing stairlifts for local authorities and the construction industry. They offer customised stairlifts that are tailored to the stairlift user's needs.
Thyssenkrupp's product range includes straight, curved and outdoor stairlifts, with three models available – the Flow 2, Comfort and Levant.
Thyssenkrupp Flow 2 Stairlift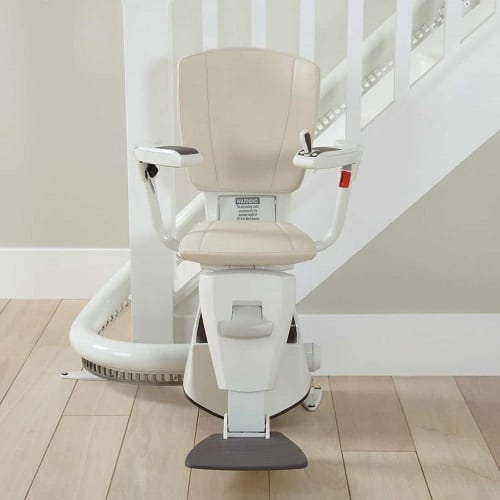 The Flow 2 can be installed on both straight and curved stairs. It has a compact design that enables it to be fitted on narrow stairs and tight bends.
It uses Thyssenkrupp's patented ASL technology, which has been engineered for a smooth, comfortable and safe ride. It runs on a discreet 80mm rail, which can be fitted on either side of a staircase and is designed to save space.
The Flow 2 has several customisable options so you can choose a look that blends in with your home and décor.
The seat covering comes in a choice of colours and fabric, vinyl or leather upholstery. You can also specify whether you would prefer straight or wrap-around armrests.
Thyssenkrupp Comfort Stairlift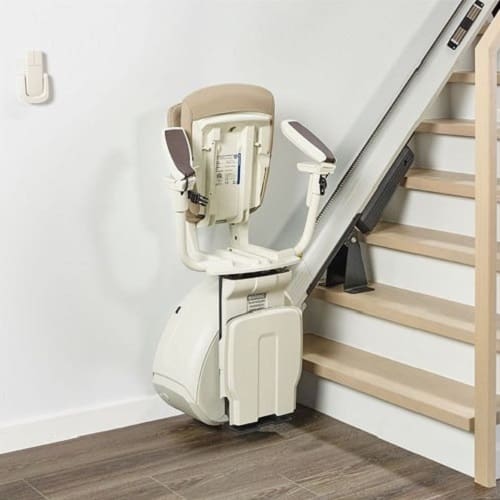 The Comfort is designed for straight stairs only. Because it has a single rail design, installation can be carried out very quickly.
The rail is made from aluminium and has a slim design. The Comfort's compact size means it can be fitted to straight stairs that are as narrow as 740mm in width. It can be folded away when not is use to allow space for other people to use the stairs.
The seat height is adjustable and there is the option of a powered swivel to help the use get on and off the lift more easily.
There is a choice of fabric or vinyl upholstery in different colours, so you can personalise your stairlift to match your home's style.
Thyssenkrupp Levant Stairlift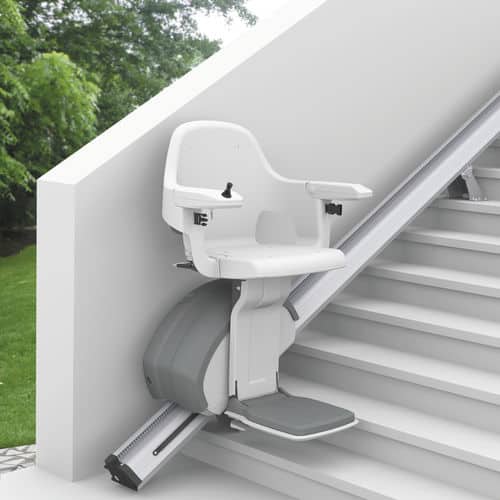 The Levant is a straight stairlift that can be fitted on indoor stairs or on outdoor steps if the user has steps outside their home that they need a solution for.
Unlike the Comfort and Flow2, the Levant doesn't offer a choice of upholstery or colours. Its neutral toned sisal upholstery can look good with any colour scheme. Its slimline rail means it can be installed on narrow staircases or exterior steps that are as little as 740mm wide.